Marriott Services in Plymouth
Decking - Fencing - Gates

Garden Clearances and More
Welcome to Our Garden Services Site
Would you like a new garden fence, or a nice wooden deck.

If you live around Plymouth, give us a call.
We can turn an unusable space in to a functional garden.

Whether you want privacy with a fence
or space with a decking, we can help.
Simple Pricing
Payments Accepted by
Cash, Card or Bank Transfer

We can offer you a FREE
No Obligation Quote.

Our Price is "Total Price",
No VAT on top.

Works can be priced by the hour
or by the whole job.
Selling your house?
Could the garden do with a tidy-up?

When arranging everything else to do with moving,
the garden sometimes gets forgotten.
Don't let the garden put off buyers.
We can give it a quick tidy and cut-back.
Pressure Washing Paths and Driveways makes a big difference
Or have you just moved in?
Maybe there's paving & you like stone chippings
or the trees and bushes are a little too high for your liking.
Sloping, uneven gardens could be levelled with a deck.
Does the fence need repairing or replacing?
Or maybe you fancy a change?
A garden make-over can be a simple process.
Whether it be - Decking, Chippings, Fencing, Clean or Clearance.
Maybe your garden's simply overgrown or out of control.
Marriott Services can help to get you back in control.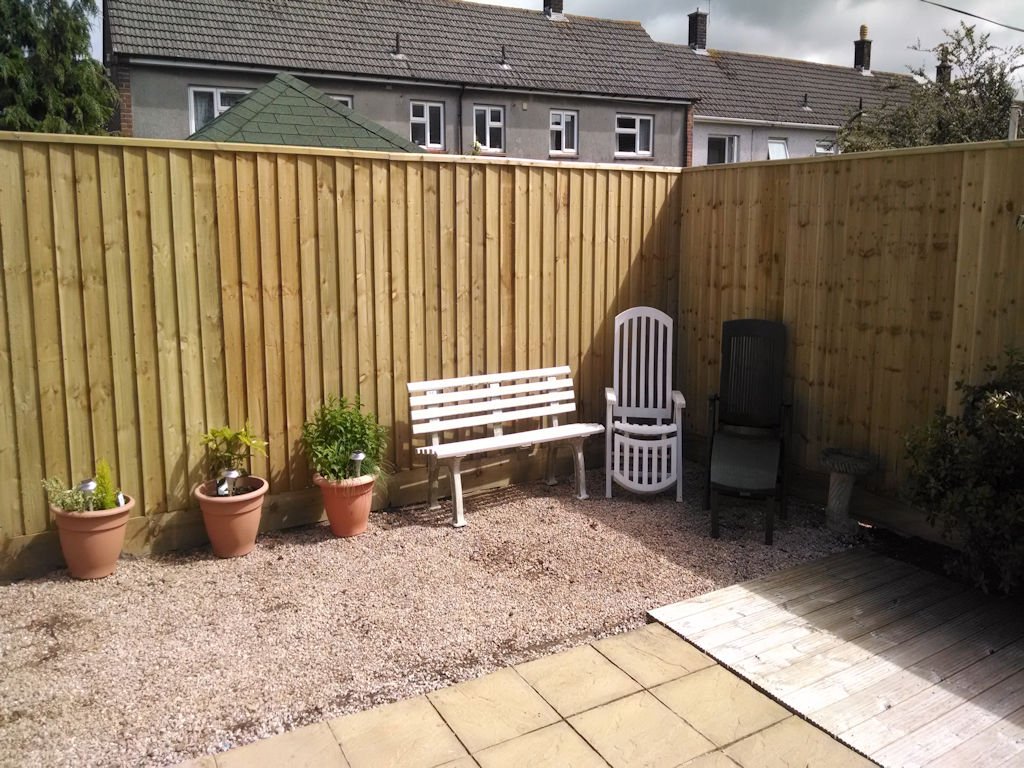 No Job Too Small
Whether your garden is large or small,
all workloads are conducted to high standards.
Landscape Gardening to your needs.

Be sure to visit our other pages, where you can see
before and after shots of the gardens we've worked on.
Teresa
I have used Marriott Services many times over the years.
Always excellent service
and work to a high standard, that lasts.
I would not hesitate to use again.
I have recommend to others and will continue to do so!.

Alison Harper
Patrick and co did a fantastic job, building
a seating area in decking for me
Plus a fence with gate out the front of my house.
Very professional and value for money,

Marriott services were recommended to me by a colleague
and I would certainly recommend them also.
Beatrice Capel
We have used Marriott Services twice
and will use them again.
They are totally professional with swift,
sensible quotes and speedy service.
And they are extremely polite and respectful at all times;
just what one looks for in a contractor.
Mrs S Williams
Our garden needed a major tidy with large shrubs cutting down and all rubbish removed. They also built a small deck in the back garden.
Excellent work - reliable and so clean & tidy.
We were very pleased with the results.
I will use them again and I would recommend Marriott Services unreservedly.
I have already recommended them to my daughter for some garden work.
Mr and Mrs Wells
We first requested some work from Marriott Services at very short notice, whilst we were abroad.
The team managed to reschedule for us to achieve the work required to suit our available dates.
The quality of the work in a tight time schedule was superb. This led us to use the team for two further projects.
We will definitely be recommending them to everyone we know.
We will be using them again. In fact the next job has already been pencilled in to the diary.